If you own property that requires plowing, tilling, or other form of cultivation on a regular basis, it is definitely worth investing in a tractor rotary tiller. This is especially true for medium to large sized plots of land, and if you already own a subcompact or compact tractor, this article is for you. I will show you some of the best rotary tiller models from Tractor Supply's CountyLine brand, which is famous for offering high-quality farm equipment at a price everyone can afford. There are 4 different models we'll be reviewing today, ranging from 4 feet all the way up to 7 feet. These are all rebadged Tarter products, and Tarter makes some of the best tractor rotary tillers. All of it manufactured and assembled in the U.SA.
Whether you're a farmer, gardener, homeowner, or professional landscaper, you're sure to find a tiller in here that suits your needs. If your land has rocky soil, compacted clayey soil, or any other type of soil that is hard to till, I am happy to say that these CountyLine models are perfect for you. They are built to be robust, and have all gear drivelines with oil bath lubrication for maximum durability. Heat treated self sharpening 6- tine rotors make short work of any clods, and you can even setup the gearbox to run in reverse.
First, I will review the 4 CountyLine tractor rotary tiller models. Then I'll show you how to select the right tiller for your needs. I'll also discuss the pros and cons of tilling, along with some tips on when you should till your land. Finally, I'll tell you why you should buy a tiller instead of renting one. Trust me, a tiller is a multipurpose attachment that is well worth your hard earned money. It mixes compost into the soil, removes weeds, and can even be used to assist with digging trenches.
---
Best Tractor Rotary Tiller / Reviews
---
CountyLine Tractor Rotary Tillers | Series
---
Review : 4 Ft. model RT4 (SKU 217304599)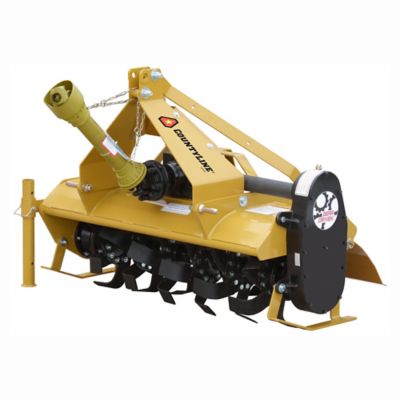 CountyLine Rotary Tiller, 4 ft., RT4CL
CountyLine Rotary Tiller, 4 ft., RT4CL [More]
This is a rotary tiller that's 4 feet wide, with a maximum working depth of 7 inches ( it has adjustable sleds). You'll need a category 1 hitch to attach this tiller, and a PTO horsepower rating of at least 25. Like many other modern tractor rotary tillers, the CountyLine model RT4 comes with a slip clutch. This means you don't have to spend precious time replacing shear bolts every time the tiller hits a large rock. If you read the owner's manual (which can be downloaded from their official website), you'll see that this is in fact a Tarter manufactured rotary tiller. It has an all gear driven driveline, which is oil bath lubricated. Basically, it means the entire gear assembly is submerged in oil. This increases lifespan by reducing wear.
The all gear drive is supposed to last longer than chain drives, since it is more durable. Either way, with modern slip clutches, the chances of you snapping a chain link or gear tooth is pretty minimal. Besides, if you're tilling a land that has been cleared of all loose debris you can actually operate this CountyLine tiller in reverse spin mode. Reverse mode requires removal of the gearbox since you need to modify a few things in it. You'll also have to remove the tine set, so this operation will take a while. But once you're setup for reverse mode, this tiller will make short work of hard clayey soil that would otherwise be difficult to work with if you were using a forward spinning tiller. That's because in reverse mode, the tines basically pull themselves into the soil.
The RT4 is ideal for cultivating and aerating garden soil, food plots, and digging trenches. The nice thing about this little 4- foot tiller is that it can conveniently fit into small gates on your farm. You can hook it up to your subcompact tractor and drive into places you normally couldn't access with a wider tiller. The tines are heat treated, so they won't warp or chip as easily. Plus, they self- sharpen. A corrosion resistant powder coat finish keeps the body panels safe from rust. If you own a Kubota BX, Deere 1- series, Massey GC17xx, etc. you should definitely consider the RT4 rotary tiller.
Remember– this rotary tiller doesn't ship with an oiled gearbox, and the fittings aren't greased. So you'll have to do that yourself before the first run, otherwise you'll burn out the components within seconds. Tractor Supply recommends 90 W gear oil (type GL5-85W 140 or Triple Zero Grease) with Extreme Pressure (EP) additives. As for grease, you can use any type/ grade II tube grease.
---
Review : 5 Ft. model RT5 (SKU 212710999)
Best Tractor Rotary Tiller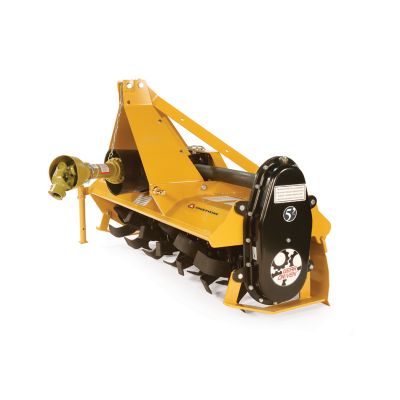 CountyLine Rotary Tiller, 5 ft.
CountyLine Rotary Tiller, 5 ft. [More]
In terms of materials and features, it is identical to the 4 Ft. model. But the RT5 is bigger, at 60 inches. It is a nice balance between convenience and performance. You can still pass through some gates on your farm with this tiller, as its overall width is just 64". It too can be configured for both forward and reverse rotation based on your needs. The RT5 requires slightly more horsepower in order to be driven. On the low end, you can get away with 25hp at the PTO, but you'll need around 30 to 35 for a smooth experience. It weighs more than the RT4 at 638lbs, so if you're thinking about mounting this on a subcompact tractor, make sure your hitch can support that weight.
The tiller driveline is all gear, which means it will not wear down for a very, very long time. That is, as long as you keep it lubricated. Don't overfill the oil bath, as it can cause pressure complications within the gear drive and result in permanent damage. Like all other CountyLine tillers, the RT5 sports kickstands which help you keep the tiller upright as you bring in the tractor hitch for mounting. Talking of hitches, the RT5 features an extremely rugged 3-point bracket design which can handle plenty of lateral force. And the tines are constructed from heavy duty steel alloy that has been heat treated, so even if you roll over a few rocks and branches, it won't harm your tiller in any way.
The tailgate can be adjusted via the chain on top, a larger opening means less dwell time for clods. A smaller opening will cause clods to spin around inside for longer, so they will break down into smaller chunks on their way out through the back. Just like the RT4, the RT5 uses Category 1 hitches. And, it is quick hitch compatible. Due to its ideal size and ease of maintenance, the RT5 is an extremely popular rotary tiller (in fact, it is the best selling CountyLine tiller model).
---
Review : 6 Ft. / RT6 (SKU 212712599)
Best Tractor Rotary Tiller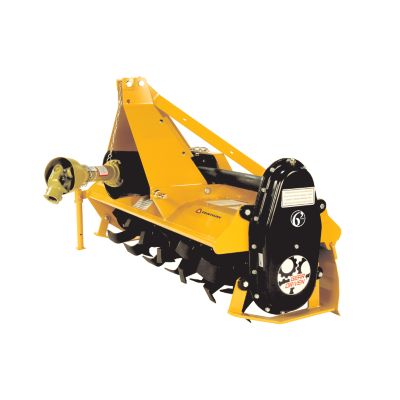 CountyLine Rotary Tiller, 6 ft.
CountyLine Rotary Tiller, 6 ft. [More]
If you own a compact tractor in the 30 to 50hp range, and need a reliable 72" rotary tiller for your farmland, this is it. The RT6 is a Tarter product, just like all other CountyLine models. Which means it is well- built with a quality all gear driveline and heavy- duty PTO. Weight is also an indicator of quality, and at 718lbs this is not a lightweight tiller. It has all the usual bells and whistles you'd expect from a modern tiller, plus one extremely interesting feature that makes it stand out from the rest- a gearbox which can be adjusted for reverse spinning. There is no deflector on the front, which is quite handy in a reverse spin tiller, because it blocks all the debris that is kicked forward by the tines.
The RT6 is great alongside tractors like the Mahindra 2645 and John Deere 3043D. Just make sure to use a tractor with 50hp maximum power at the PTO. Anymore than that, and you risk burning out the slip clutch by overpowering it. The PTO rpm is supposed to be 540, no more. And it is good to make sure that your clutch slips at least a couple times per year. This will prevent the abrasive plates from bonding together with rust and other caked on debris. Once they bond together, it is really hard to make them slip and that can cause trouble if your tiller hits a hard obstacle. Always use a lower gear while the tiller is engaged, faster ground speeds will damage the gearbox and result in a poor tilling job.
Like the other CountyLine models, the RT6 also features an adjustable sled for depth changes between 1 and 7 inches. It also has the hinged tailgate which is controlled through a chain. The tailgate has two functions- it smooths out the soil surface, and helps keep larger chunks of soil in the tiller for longer so they break down into smaller pieces.
---
7 Ft. model RT7 (SKU 103102699)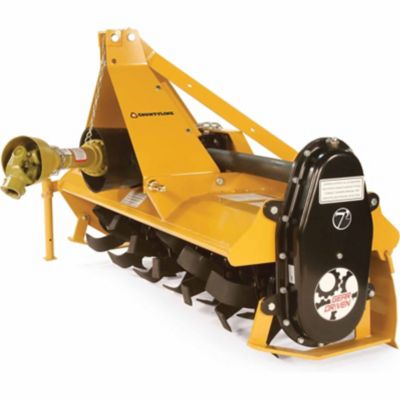 CountyLine Rotary Tiller, 7 ft.
CountyLine Rotary Tiller, 7 ft. [More]
Even though Tractor Supply's official site states a range of 25 to 50hp for the RT7, I suggest you go with 45 to 60 if you want to be on the safe side. Because that's what the HP ratings for the RT7 are on Tarter's website, the OEM for CountyLine rotary tillers. It is pretty clear when you consider the fact that the RT7 comes with dual stage hookup (both Cat 1 and Cat 2). Well, what is the difference between Cat 1 and Cat 2? They are specifications for 3 point hitches, which come in 5 sizes range from 0 to 4. The differences between hitch sizes are the dimensions of the triangle, and the size of the connecting pins.
The lower 2 arms are called lift arms, and the top arm is called the top link. The Cat 1 lower arms are 26 inches apart, whereas the Cat 2 lower arms are 36 inches apart. The top link on a Cat 1 is located 18 inches above the center line, whereas the top link on a Cat 2 hitch is located 24 inches above the center line between the two lower lift arms. A Cat 1 lower lift pin is 7/8" in diameter, while a Cat 2 lower link pin is 1-1/8" in diameter. The top link pin on a Cat 1 hitch is ¾" on a Cat 1, but 1" on a Cat 2. It should be clear by now that the Cat 2 hitch is intended for larger attachments. Hence, it is seen primarily on tractors in the 40 to 100hp range, while Cat 1 hitches are commonly found on tractors in the 20 to 45hp range. There are exceptions as usual, but this is the general rule.
So, what kind of job is the RT7 designed to do? It is mainly for compact tractors in the 40 to 60hp range, and is ideal for multi- acre plots of land. If you're only interested in tilling some flower beds in your garden at home, you can get away with something much smaller like the RT4. The RT7 is a serious rotary tiller for larger jobs, as is indicated by its 800lb weight.
---
What's A Rotary Tiller, And How Does It Work?
A rotary tiller is an agricultural implement used to cultivate the soil by turning it over, this allows for better water percolation and aeration which helps plant growth. Rotary tillers form a subset of the larger group known in general as "tillers". Even a simple hand- held tool like the shovel or pickaxe can be considered a tilling device. In older days, we used horse/ ox drawn ploughs to till our fields and prepare them for planting seeds. These days, we have mechanized roto- tillers or rotary tillers which get the work done at a much faster rate.
So, how does it actually work? Well, the operating principle is quite simple- you've got a horizontal shaft with some blades mounted on it. As the shaft spins, these blades dig into the soil and stir it up. The blades are known as "tines", and they are designed specifically to dig up soil. No matter which model or brand you choose, the tines will always be curved L- shaped blades.
These tines are attached to the shaft with flanges. Each flange holds an even number of tines arranged in an alternating pattern. Its either 4 or 6 tines per flange, and there can be multiple sets of flanges per shaft. In a four tine configuration, 2 of the tines point inwards while the other two point outwards. For example, tines 1 and 3 point in one direction, while tines 2 and 4 point the other way. This is done to prevent soil from accumulating on the blades.
A six tine configuration will till faster since it passes through the soil more times with each rotation. Six tine tillers also weigh more as a result of having more metal on the shaft. Depending on the size and type of rotary tiller you purchase, it can be self- propelled or towed. Smaller rotary models like garden tillers are similar in size to walk- behind lawn mowers and have their own propulsion system (usually a 4-stroke gas engine).
Tractor rotary tillers on the other hand, aren't self powered and rely on the tractor's engine to function. They connect to the hitch in the rear of your tractor, and are driven by the PTO (Power Take Off) system. Larger tillers have a wider clearing swath and dig deeper, as result they also require more powerful engines to drive them. A 25hp tractor might be sufficient for a 4- foot rotary tiller, but you'll need 40 to 50 horsepower for a 7- foot model.
---
Why Should You Buy A Rotary Tiller | Tilling Pros and Cons
If you want to prepare the soil in your arable fields, vegetable gardens, or virgin plots of land, a rotary tiller will get the job done much quicker than a hand rake or fork. It is the ideal choice for medium to large sections of land, since you can't possibly till all that area by hand. Tractor mounted rotary tillers cover more area in less time compared to lawn tillers or mini- cultivators that are self- propelled.
So, what does tilling do for your land? Simply put, it prepares the soil for sowing and transplanting. Tilling will break down clods or chunks of hardened up soil from the surface, pull out weeds, and increase the porosity of the soil. In addition to preparing farmland, rotary tillers can also be used to prep vegetable gardens and flower beds. Tilling results in better soil aeration, and helps keep soil dryer in wet climate. It also mixes organic residue like humus, harvest residue, and compost evenly into the soil.
Tilling does have its problems as well. It might dry out the soil a bit too much before the seeding season. Tilled soil also loses some of its natural ability to retain water, along with nutrients such as nitrogen and fertilizer. Water runoff and erosion is more likely to happen on tilled soil since it absorbs water very slowly. Tilling over- aerates organic matter that is naturally found in the soil, which kills the microbes that break down harvest residue and compost. Tilling also kills earthworms which naturally aerate and fertilize soil by digging through it and dropping their waste.
---
Choosing The Perfect Rotary Tiller Based On Your Needs
Working Width: This one depends on the size or area of land that you're working with. A wider working width means you can till the same amount of land in fewer passes compared to a smaller tiller. In addition, wider tillers tend to have larger diameter rotors which can go deeper into the soil. The basic rule of selecting rotary tillers is- buy one with a working width that is at least as wide as the tractor's rear tire base.
Gear vs Chain Drive: A lot of people prefer gear over chain drive. This is referring to the final drive system that transmits power from the PTO into the tiller shaft. In a gear drive, there is an upper gear which is connected directly to the tiller's gearbox that receives power from the tractor PTO. This upper gear drives a larger intermediate gear. This intermediate gear is connected to a lower gear which drives the tiller shaft that has all the rotors for turning over soil. A chain drive is similar to the sprocket and chain system in your bicycle, except the chain and sprockets are a lot sturdier. People believe gear drives last longer and are less prone to breaking down. But the truth is that we have no scientific study or conclusive evidence that proves this theory. Chain drives can last just as long as gear drives with proper maintenance, and they are also cheaper.
Shear Bolt vs Slip Clutch: When your tiller rotors hit a log or large rock, they will come to a sudden halt and this might end up stalling your tractor engine or damaging its gearbox. Not to mention, your tiller will also be ruined. To prevent this from happening, there are two mechanisms- shear bolts and slip clutches. A shear bolt is similar to the shear pin on a snowblower. There are two shafts, one inside the other. These are connected via a set of shear pins. When the tiller rotors hit a heavy object, the shear pin will break off and prevent the shock from transferring into the drive shaft or gearbox.
A slip clutch is what I recommend, it is standard issue on most modern tractor rotary tillers. Instead of a shear pin which has to be replaced every time it breaks, the slip clutch just causes the PTO drive to slip whenever the tiller encounters excessive resistance. You don't have to replace any hardware; a slip clutch is essentially a set of abrasive clutch plates sandwiched together with spring pressure. You can decrease or increase the spring pressure to adjust clutch slippage depending on the type of land you're working on.
Four vs Six- tine Flange: More tines on the flange equal faster tilling times. However, it also increases resistance and you need more horsepower to drive those extra tines. Compared to a 4-tine per flange tiller, a 6- tine per flange tiller of similar width requires 23% extra HP in order to operate at the same RPM.
Forward vs Reverse Rotation: Most rotary tillers on the market are of the forward rotating variety, which means the tiller rotors push the tiller forward in the same direction as the tractor. This causes the rotors to ride over any obstacles such as branches or rocks, without damaging the tiller blades or shaft. However, a reverse rotating tiller is the exact opposite- its shaft spins in the opposite direction as that of the tractor's axles and as a result it pulls up rocks and other debris into the tiller. This can seriously damage the tiller, which is why you should operate a reverse rotating tiller only on land that has been processed and is guaranteed to be debris free. A reverse rotating tiller does have its advantages- since it is pulling away from the tractor, it digs itself into the soil and provides a more thorough tilling. It won't bounce around as much as a forward rotating tiller on harder soil or uneven ground.
Tiller Weight: Heavier tillers are generally better, since they maintain better contact with the soil and till more evenly. More weight means the tiller doesn't bounce up and down as much on harder soil. However, you must also check the specifications on the 3-point hitch of your tractor to make sure that it can handle the weight of your rotary tiller.
Build Quality: Look for rotary tillers made from quality materials. The clutch and PTO shaft must be extremely durable, along with the tines. These are the three components that are subjected to the most stress when you operate your tiller. An oil bath lubrication system is highly recommended for the gearbox and drive system.
HP Rating: Before you purchase a rotary tiller, make sure your tractor can drive it. Look up your tractor's PTO horsepower rating, it should match or exceed the minimum requirements for the tiller you're about to use. Wider tillers need more horsepower, 6- tine setups need more horsepower compared to 4- tine setups.
RPM: The speed at which your tiller's rotors spin is directly related to the smoothness of the tilling job. More RPM results in a finer soil that works better as a seed bed. Large clumps of soil (clods) are broken down quicker when the rotors spin faster.
Quick Hitch Compatibility: When given the option between a tractor rotary tiller that supports quick hitching vs one that doesn't, I'll pick the former without a second thought. People who have used rotary tillers with their tractors will tell you that the most frustrating part about the whole process is attaching/ detaching your tiller. A quick hitch makes this much easier, and I highly recommend it.
---
Additional Considerations To Make Before Choosing A Rotary Tiller
Apart from features, build quality, and specifications, you must also consider factors like easy access to internal components for quick field maintenance. Availability of spare parts is another major point that most people tend to overlook while purchasing farm equipment such as rotary tillers. If your tiller breaks down in the middle of the season and you don't have any spare parts at hand, it could take weeks before it is ready to work again. Make sure to read the warranty terms, and understand which components are covered for how long (also note who will perform the repairs).
If possible, try to purchase a rotary tiller that can be mounted in an offset position. This feature will come in handy if your tiller width is smaller than the outer distance between your tractor's rear wheels. Finance is also worth considering, as it could potentially make the purchase a lot more convenient. After all, tractor rotary tillers are expensive attachments. Tractor Supply offers financing for CountyLine products, through their Tractor Supply Personal Credit Card. You can learn more about Tractor Supply financing rates and special offers on their official site.
---
About CountyLine Rotary Tillers | Where Is It Made?
As you know, CountyLine is a brand of affordable, yet well- built farm equipment from Tractor Supply. But they aren't the actual manufacturers of these products. For instance, CountyLine rotary tillers are made by a different company and rebadged under the Tractor Supply name. The nice thing is that all CountyLine products are made in the United States. These are extremely sturdy products made from materials like powder coated steel and cast iron. All CountyLine rotary tillers have heavy- duty PTOs, self sharpening tines, oil bath lubricated gear drives, slip clutches, and adjustable runners.
There are two major OEMs (original equipment manufacturers) that make most of the rotary tillers distributed across America- King Kutter, and Tarter. Plenty of companies purchase tillers from these two OEMs and relabel them. The CountyLine series consists of both King Kutter and Tarter tillers. As a result, finding spare parts for these machines is pretty easy (and they won't break down easily).
There are only two minor issues with CountyLine tillers- first is their poorly organized and often ambiguous assembly instructions, and second being the fact that these tillers come with no oil in the gearbox or drive system. You need to watch some Youtube videos on how to setup your particular CountyLine tiller and connect it with your tractor. Occasionally, you might need to shorten the PTO shaft (for specific tractor models only). Here is a nice video explaining the process of assembling a 5- foot CountyLine tractor rotary tiller.
---
When To Operate Your Tractor — Mounted Rotary Tiller | Helpful Tips
Most of the tilling is usually done in spring when people are preparing soil for planting the next season's harvest. If the land has never been tilled before, it is advised that you prepare it with plough in the fall and let it sit through the winter season before tilling. Also, make sure not to rush the first or second pass, otherwise the soil will not be conditioned properly, and seeds can't grow to their full potential.
The dirt must be loosened before you increase tilling speed. Make sure the soil has been turned over multiple times to a depth between 4 and 6 inches. There should be no remaining large clods or chunks of soil on the surface. Overlap strips while making passes, so you don't end up with unprocessed patches on the land. If you're the owner of an allotment or smallholding and are looking to grow winter crops, till the soil after you've harvested the last of this year's summer crops. Doing so will get rid of clods and impacted ground, while simultaneously improving drainage and injecting oxygen into the soil. This is really beneficial for plants like onions, fava beans, and peas.
---
Should You Buy or Rent A Rotary Tiller?
Now, you might be thinking "why spend 2 grand on a brand new rotary tiller when I can just rent one for a day". Nice question, after all tillers aren't something you use every week like a lawnmower. If you only use it twice a year, it is surely cheaper to rent instead of buying one, right? Well, renting a tiller for a couple weeks each year can cost just as much as purchasing a brand new tiller. You also have to consider the fact that these things weigh several hundred pounds, and need transportation to and from the rental place.
Don't have a truck capable of transporting a 7- foot wide tiller? Tough luck. Maybe it was sunny when you rented the tiller, but as you go to return it a rainstorm happens and now you are charged for another day of renting. Owning your own tiller lets you do work whenever you want, with no loading and unloading times. You can wait out the storm, and don't have to rush the job.
But what if you only use your tiller for 2 days each year? On the low- end, rental costs can be around 90 to 100 dollars per day. There are half- day and 4- hour rentals as well, but it can be tough to get your work done in short periods of time which is why I don't recommend it. A good tiller from a reputable brand will easily last 10 years with proper maintenance.